It May Seem a Daunting Task to Apply For Schengen Visa but if You Can Take Care of Some Professionals Then This Can Be Done in No Time at All.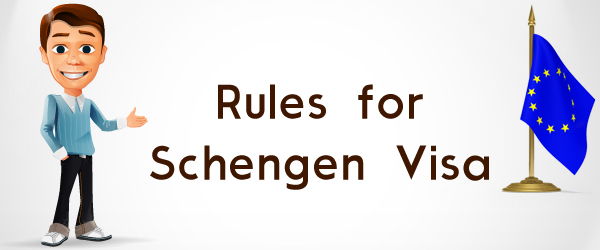 Please Go Through the Guide Carefully to Avoid Making Such Common Mistakes Which Leads to Rejection of Schengen Visa Application.
Reason 1. The Word Schengen Visa Is Often Misunderstood by the Travelers. They Call Schengen Visa for All the Countries Infect It Is Important to Understand the How This Visa Process Works and What Exactly Is the Schengen Visa. In Total There Are 26 Countries Which Come Under Schengen Zone and Are Bound to Schengen Treaty and the Visa Which Is Issued by These Countries Is Called Schengen Visa. If Your Visa Is Issued by Portugal Embassy Then the Visa Is Called Portugal Schengen Visa and if the Visa Issued by Belgium Consulate Then Visa Is Called Belgium Schengen Visa or if Visa Is Issued by Italian Embassy Then the Visa Is Called Italian Schengen Visa. There Are Some Guidelines You Need to Follow in Order to Apply for Schengen Visa to Particular Consulate or Embassy of Schengen Zone. First You Must Figure It Out That Which Is the First Country You Going to Visit in Schengen Zone, Then the Visa Should Be Applied to That Consulate Which Is Your First Port of Entry. If First Port of Entry Is Not Determined Than the Visa Should Be Applied to That Country in Which You Will Be Staying for Longest Period. If You Failed to Determine Which Is Your Main Destination Than May Be Your Application Can Be Rejected.
Reason 2. There Is a Common Misconception About Schengen Visa Is About Its Validity. The Traveler Thinks That They Can Get a Visa for Whole Year or May Be 2 and Can Spend Complete Year or 2 in the Schengen Zone but This Not How It Goes. To Apply for Schengen Visa for Longer Duration You Need to Fulfill Some Criteria for Example if You Are Applying for Portugal Visa and You Are Not a Family Member of EEA/EU National as It Endorsed on Your UK Resident Permit Then You Will Only Get a Single Entry Permit Valid for Only One Trip. As for Single Trip the Duration for Which One Can Stay in Schengen Zone Is Mentioned on the Visa. Upon Getting Multiple Entry Visa One Can Spend Up to 90 Days in Any or Multiple Schengen Country Altogether From the Date of First Entry in Six Months. The Business, Tourist and Transit Visa Are Kind of Short Stay Visa Which Allows the Traveler to Stay in the Zone for Not More Than 90 Days in Six Months of Time. The Property Owner in Europe Can Be Granted a Long Term Visa.
Reason 3. Another Misconception About the Visa Is That Consulate Can Issue Visa on Same Day, which Is Absolutely Wrong as No Consulate Issue Any Kind of Schengen Visa Very Same Day of Application. The Minimum Processing Time for Schengen Visa Is 3 Days and That Too for the Family Members of EU/EEA Citizens. Also the Issuance of Visa Depends Upon the Nationality of the Applicant Which May Take Longer as Per the Security Clearance. In Normal Circumstances the Maximum Turn Out Time Is 15 Days.
Reason 4. Now Your Main Destination Is Finalized You Need to Get the Appointment Booked at the Consulate of the Country You Are Visiting. But Be Careful You Should Apply to the Consulate Which Servers Your Area. Applying to Right Consulate Is Necessary to Get Your Visa Application Approved. You May Have Couple of Consulate of Visiting Country in Your Country of Residence but You Need to Choose the Right Consulate Which Serves Your Area of Residence. So It Is Imperative to Apply at Right Consulate or the Agency.
Reason 5. Always Be Careful to Submit the Current Application Form of Schengen Visa So That You Application Do Not Get Rejected.